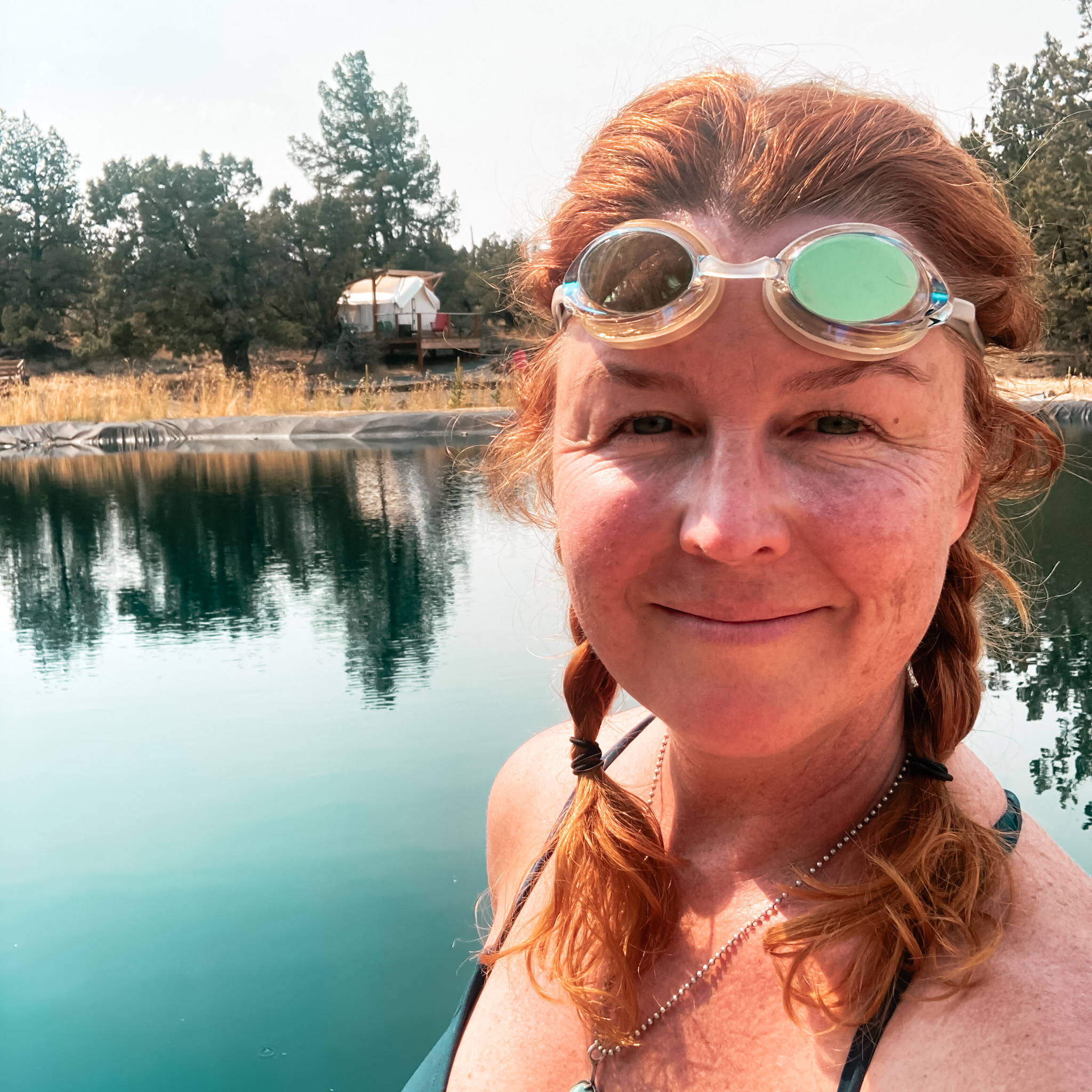 Angelina's Top Tips for Minimizing Sun Damage
When sunlight hits your skin, it damages healthy cells. Without sun protection, this damage can build up. In time, you see signs of sun damage like freckles, dark ("age") spots, and wrinkles. It can also cause dryness. Some people develop precancerous skin growths, skin cancer, or both.
Anti-inflammatories and antioxidants are key!
Cooling, soothing foods work from the inside to heal all of our tissues and organs, including our largest organ, our skin. Especially in the summer months, be sure to eat plenty of anti inflammatory foods like organic salads, melons, cucumbers, olive oil, salmon, almonds and dark leafy greens. Antioxidant rich foods like berries, dark leafy greens, broccoli, avocados and, of course, dark chocolate.
Apply soothing skin care after a day in the sun. Central Oregon is very hot and dry in the summer. Some of our favorite products for sun-drenched skin are:
STEP 1: CLEANSE
Use a gentle, soap-free cleanser like the Gentle Cleansing Milk or Apple Chamomile Cleansing Gel.
STEP 2: MASK + EXFOLIATE
EXFOLIATE: Removing the topmost layer of dead, dry skin restores that radiant glow and helps your leave-on products sink in better. *Only exfoliate if you if your skin isn't tender or sunburned. I love to give my body a good scrub with one of our shea butter enriched Sugar Scrubs. For face, try a gentle scrub like the Cucumber Face Polish. The added brightening ingredients help reverse some of that sun damage.
MASK: Our favorite post-sun facial mask is the Sea Mineral Radiance Mask. The calcium in this soothing mask calms and brightens skin. Personally, I like to boost the healing properties of this gentle mask by blending in a few drops of the Blue Sapphire Facial Oil. If your skin is really dry, opt for the Honey Avocado Rescue Mask. You can wear this luxuriously rich mask overnight!
STEP 3: TONE
Toners tighten the skin and restore your pH. Our Bulgarian Rose Hydrosol- we spray this cooling mist head to toe. This is a favorite with my family when we're car camping. We store it in the ice chest and the cold mist feels both sothing and invigorating.
STEP 4: TREAT
Apply some Cucumber Aloe Rescue Gel (keep it in the fridge- it feels wonderful!) to any skin that's hot and red. The day after sun exposure, which is every morning for many of us, be sure ot use a vitamin C serum. Vitamin C helps reverse some of the damaged caused by UV rays, enhances collagen production and lightens "age" and dark patches. While ascorbic acid is the most potent form of vitamin C, many folks find that it irritates their skin. The other downside is that ascorbic acid causes sun sensitivity for several hours. We've opted to use a blend of vitamin C derivitives in our Ultra C Serum because they're less likely to cause irritation and they don't cause photosensitivity, so you can use this potent serum during the day.
STEP 5: MOISTURIZE
Sun exposure can really dry out the upper layers of our skin and applying a little extra moisture is key to keeping skin healthy and radiant. Explore our range of luscious Body Moisturizers and apply a generous amount after you come out of the sun. For your face, be sure to use an antioxidant-rich moisturizer like our Saving Grace Night Cream.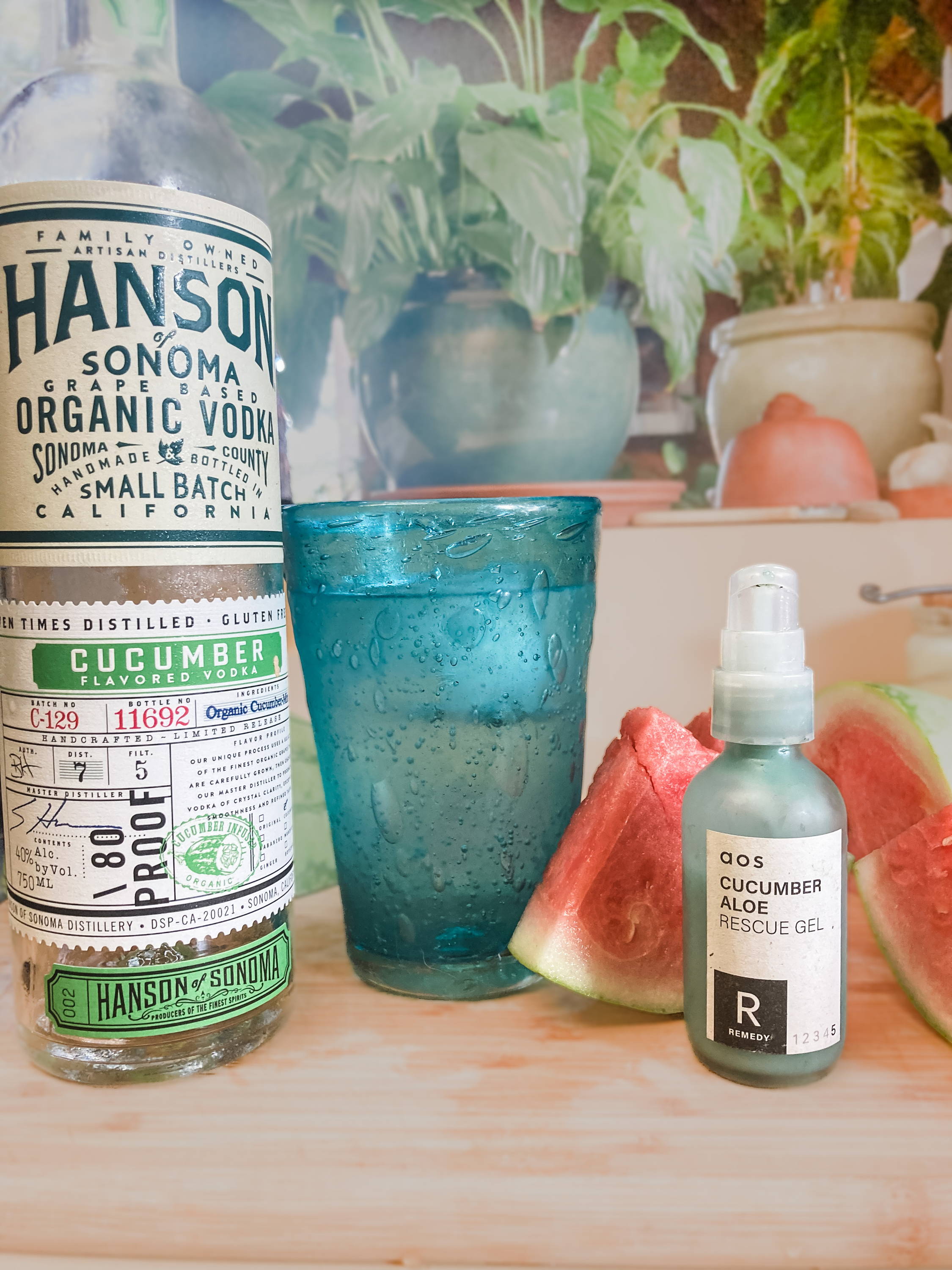 Did you forget to reapply sunscreen or just stay out too long?
Sunburns are the worst! As a redhead, I can't begin to count the number of times I've burned my delicate, pale skin. No matter what your skin tone, you can burn if you stay out in the sun long enough.
It happens! I recently burned the tops of my feet badly because I applied sunscreen while wearing shoes, then took them off while paddle boarding and didn't even think about it. After more than two hours on the river, my feet were lobster red. They even swelled up that night!
Treat Your Sunburned Skin Immediately!
I keep a bottle of our Cucumber Aloe Rescue Gel in the refrigerator and applied that every few hours for the next couple days. It felt so soothing and in just three days, the redness was gone without any peeling! I recommend this little gem to everyone. Whether you get too much sun, get eaten by mosquitos or burn yourself on the stove, this is a handy remedy to have in your home apothecary.
If you have an aloe plant growing nearby, you can slice off a couple inches of leaf, fillet it open and apply the gel right to your skin.
Don't have any aloe products or plants on hand? You can still get some relief. Try making a cup of soothing herbal tea, cooling it in the refrigerator and dabbing that on your sunburn. Even better- freeze the tea in an ice cube tray and give yourself a little cryotherapy treatment by gliding the icy cube over your sunburned skin.
Calming herbs to use: chamomile, lavender, rose petals, green and black tea, jasmine flowers, plantain leaves, comfrey, calendula, yarrow and St John's wort flowers.
Juice a cucumber and apply the juice to your burned skin. Witch hazel extract can take out the sting as well.
If you're in Central Oregon, come in for a Custom Organic Facial with Cryotherapy
Did you get sunburned recently? Have an important event coming up and want to decrease that redness fast? Or maybe you just run hot all the time- especially in the summer. Dont' worry, we've got you!
Sun-kissed skin thirsts for cryotherapy and cooling herbs and we've designed the perfect soothing treatment to calm red skin.
Here's what you'll experience:
Relax as you are treated to a gentle facial with our most soothing herbal products. When you enhance your facial by adding on Cryotherapy, your esthetician will paint on a soothing blend of cucumber, aloe vera and nourishing sea kelp extract to lock in hydration while a refreshingly cool Cryotherapy wand glides over your skin to draw out heat, relieve redness and discomfort. Bonus- Cryotherapy also tightens and tones skin, minimizing fine lines. And who doesn't want that?!
Cryotherapy Benefits: The icy cold causes blood vessels to constrict, firming and tightening the skin. When that subsides, your blood vessels swell back up with fresh nutrient-rich blood. This temporary increase in localized blood flow enhances the performance of your skin-care products by helping actives to penetrate deeper.
---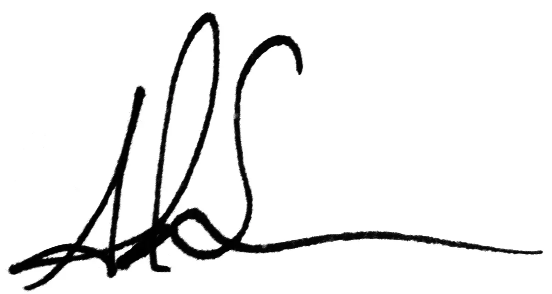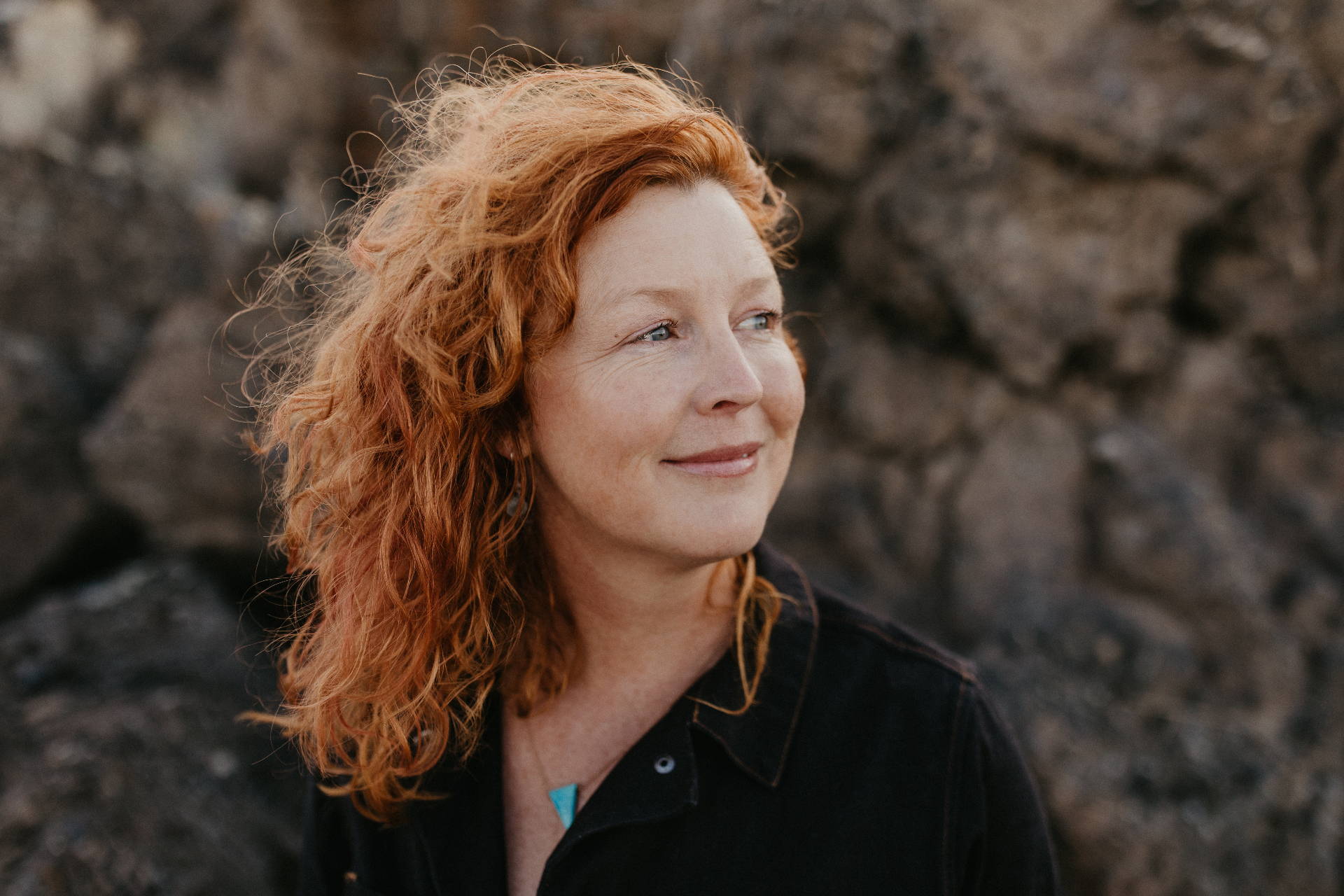 Angelina Swanson is the founder and chief formulator at aos [ angelina organic skincare ]. A self-described plant chemistry nerd, she's spent more than thirty years researching and developing skincare formulas that keep our skin healthy and radiant.
Enter your email and receive 10% off your first order.